We've written in the past about account-based marketing and what it entails. You may be wondering, however, what exactly account-based marketing firms do that is so different from run-of-the-mill marketing agencies. What sets them apart? How can they more effectively help your business?
Today we're taking you on a journey of sorts. We'll lay out our view of account-based marketing, and give you an idea of how we implement it into our strategies. By the end, you should see how it differs from the tactics typically used by others in the marketing space. More importantly, you'll see why we believe account-based marketing is the best way to grow your business.
Account-based marketing firms are efficient
Let's say you're drafting the quarterback position for your pro football team. When you're on the clock, do you select a college quarterback who's been throwing passes since pee-wee league, or a tight end you hope can learn the job? Logic says you'll probably have an easier time with the quarterback. They already know the role and can step into it without starting from scratch.
Account-based marketing works in much the same way, but with leads. Instead of drafting anyone who's available, you're doing your homework to make sure you get exactly who you need. You're going after potential customers who are already receptive to your product or service; those who fit the mold of your ideal player, so to speak. This is a win for efficiency, as it means all of your marketing resources are targeted at leads who are more likely to convert.
They help you develop an expertise
You know the old phrase, "jack of all trades, master of none?" The same idea applies to your marketing message. If you go too broad — if you try to craft a message that appeals to everyone — you may fail to pique the interest of anyone. You won't be known as a leader in what you do or what you sell. In fact, you may not be very well known at all.
Account-based marketing firms excel at helping your business find its "thing." When you have that, you can focus all of your efforts on attracting those who want it or need it. You'll become the go-to solution for "Sprocket A" or "Service B," which will make you more discoverable for those who don't need any convincing at all. Once you learn more about them, you'll know how to better shape your message to reach those who haven't found you yet.
They prioritize building relationships
Time is a valuable resource, as is the effort of the team that shows up every day to power your company. One way to burn those resources is to chase after those who do not wish to be chased. That's time you could spend on the customers you already know inside and out, delivering outstanding customer service while devising new ways to help them achieve their goals.
One constant you'll find across many account-based marketing firms is their fixation on helping you build relationships with your customers. The better you know your customers, the better you can serve them and others like them. This will keep your customers happy, and really, that's enough. But word does get around, too — tales of your extraordinary customer focus could reach those who don't feel quite as appreciated by your competitors. In short: you could net yourself a new client just by being awesome.
HOW TO CHOOSE A DIGITAL MARKETING AGENCY
Why You Need a Digital Marketing Agency
1. Customers have a short attention span in an overloaded marketplace. You need a solid strategy that will withstand the winds of white noise, consumer overload and all-too-brief visits to websites that look good but don't convert online views to buyers.
2. You know your niche and are good at your core business, but you don't have a recognizable brand or cohesive strategy. Your lead flow is inconsistent. You're not into videos, copywriting or design. Also, your social network presence is scant and unconnected. The good news is that you have taken the first important step — you see the problem.

You need to hire experts who can take your marketing from the mundane to the exceptional. You need a digital marketing agency to elevate your brand, attract visitors and convert leads. Working with the right digital marketing agency is the only way to keep up with new marketing tactics and ways to find customers you didn't even know were out there.
10 Factors to Consider When Selecting a Digital Marketing Agency
1. A good digital marketing agency is first a marketing agency that will fully understand your brand, product and services and develop a strong strategic approach to reach your objectives. Be open to revisit your overall brand, brand portfolio, or revisit some of your product marketing, which may lead to much better results down the road.
2. A good digital marketing agency will also demonstrate strong creative. The ability to develop a "Big Long Idea" differentiates you from the crowd. It also increases the impact of your campaigns and your return on ad spend (ROAS).
3. The best digital marketing agencies should embrace data to serve your marketing needs. What is the size of the online market for your products and services, what is your position in this competitive landscape, what domain names are getting all the relevant traffic, what do you need to do to get to that coveted spot on Google page 1? Those are questions whose answers are the foundation of successful online marketing. The answers lie well within research and data provided by the best digital marketing agency.
4. The best digital marketing agency should show a portfolio of clients in your similar industry or type of business (B2B, B2C, B2B2C) and show tangible and measurable results, more than beautiful deliverables such as websites, videos and such. The digital marketing agency website must be exemplary and easy to find through a quick web search. Obviously, if you are looking to upgrade your own marketing web site, the agency needs to show what they have already done for themselves.
5. The best digital marketing agency should demonstrate great content development capabilities. One key element of your digital marketing success will be the ability to develop relevant content in the form of articles, blogs, white paper, case studies, ebooks and other types of "premium" long-form content. This content will be the cornerstone of high-performing SEO and inbound marketing campaigns.
6. A digital marketing agency should live and breathe inbound marketing, a core element of your lead generation strategy. Inbound marketing shows individuals you understand their problems before introducing solutions. The process is based on clearly defined buyer personas and matching their problems with your solutions. An inbound digital marketing strategy and plan defines your audience's pain points and aligns it with your key performance indicators (KPIs), your goals, budget and expected return on investment.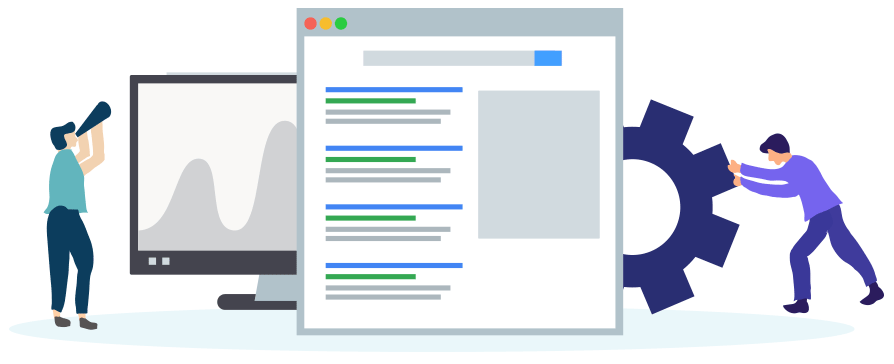 7. A digital marketing agency must know everything about SEO — search engine optimization. SEO is a moving target. It used to be that keyword stuffing was a bait-and-switch tactic that SEO gurus could use to fool Google to lure visitors to websites. Those days are gone. Now the Google algorithm focuses on many other factors like how well the website works as well as the quality of its content. Yes, keywords and phrases are part of the mix, but the rules continue to evolve as web crawlers get smarter. A digital marketing agency with SEO experts will show you how to get found by more sophisticated web crawlers and how to maintain your position at the top of the heap. Look for those Core Web Vitals and other must-haves in 2021!
8. A digital marketing agency should include ABM as part of their mix and should be able to explain it clearly with practical examples. ABM helps align marketing and sales teams and complements inbound marketing with a targeted, account-based approach. It's personalized, targeted and scalable, making it easier than ever to reach your most coveted customers directly.
9. The digital marketing agency must employ cutting-edge tools along with the expertise to use them. Ask the agency rep what they use for project management and what the team uses, for example, to measure website performance and SEO. The right tools make the collaboration process smoother and automate your marketing efforts. Tools like HubSpot consolidate all your email, social, web and CRM efforts into one cohesive database.
10. Your digital marketing agency should report at least monthly what is working and how they can make it even better and must not overpromise You need to be kept in the loop, but remember that not all performance is quantifiable through statistical reports. The easiest connections are between the marketing content and revenue performance. Feedback and service after the sale is a crucial element in deciding how to choose a digital marketing agency. Beware of promises of incredible results that sound too good to be true. If the agency guarantees a bottom-line result of more customers, ask them to prove it. No one can guarantee more customers, even with the most successful marketing campaign. The more competitive an industry, the more time it will take to see whatever changes you're seeking in your bottom line.
HexaGroup Blends Everything You Need for Your Digital Marketing Strategy
HexaGroup's digital marketing services leverage the best in scalable digital marketing services. With decades of experience earning awards for website and marketing performance, we're ready to take your ideas and translate them into marketing performance. We combine both inbound and ABM methodology to reach your customers where they are, attract and convert them.
Plus, we're a HubSpot Platinum agency and a partner with BBN International so you enjoy the personalization of a local agency with the power of global support.
We're experts in developing creative websites, driving SEO efforts, implementing inbound and ABM campaigns and more, but don't take our word for it. Browse our portfolio of case studies that demonstrate our team's creativity and ability to convert leads into customers.
Or talk to us about creating a scope of work that meets your specific needs for your website, marketing and lead generation. We'll transform your needs into goals and action plans so you see growth year after year.