You can buy almost an electric version of everything now. Whether a Tesla Car, Chain Saw, Lawn Mower or Weed Eater, manufacturers are moving away from gasoline and moving towards battery power. The same holds true for Industrial Service Drills and other tools too.
Aztec Bolting is introducing the latest in speed and precision with the new EvoTorque® Battery Tool, a transducer-controlled tool to accurately apply torque to threaded fasteners. The EvoTorque (EBT) features a new brushless motor, data storage and data sharing capabilities.
Fast: The tool uses a powerful motor in tandem with a single-speed or an automatic two-speed gearbox for quick joint completion.
Durable: The EBT's industrial motor keeps going when other battery-powered tools overheat.
Accurate: TheEBT's unique joint-sensing tech continually measures the joint while tightening and if necessary implements dynamic braking to prevent torque overshoot because of motor inertia. It consistently achieves extremely accurate results of ±3% of setting.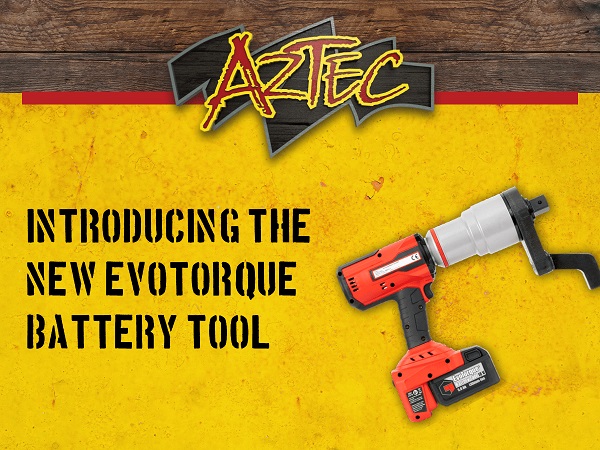 SMART DATA MANAGEMENT
The EBT comes with the complimentary software EvoLog for tool configuration and data management. This allows you to send log results in real time, generate and save graphs, and export results in CSV format.
EBT also can interface with third-party production control software, and it allows Bluetooth 4.0 and USB data transfer.
It has the capacity to save up to 3,000 readings, time and date stamped, and you can create up to 12 user IDs to sort data. It can storenumerous units of torque measurement, including N·m, kgf·m and lbf·ft.
FLEXIBLE OPERATION
You can use advanced mode for torque and angle, final torque or torque audit functionality. You can also enter torque-only mode to minimize the risk of operator error.
In addition, with the EBT you can undo bolts with the operation direction feature. When completing sequence tightening, it's possible to undo an improperly tightened bolt without stopping the sequence.
In addition, you can check whether bolts were already tightened during an assembly process with the turn angle option. Two-stage tightening provides faster application of a snug torque and angle target. There's also a clear indicator for successful joint application.
SAFETY FEATURES
The EvoTorque features a tried and tested gearbox design, proven reliable for more than a decade. Its brushless motor is low maintenance, and combined with its 18V, 5.0Ah battery, it provides excellence fastening performance per charge.
The safe to start button ensures hands are properly positioned before operation.
AZTEC BOLTING
Their expert team provides a variety of bolting services, including tool calibration services, torque tool repair. We're happy to work with you to find the solution for all your bolting applications and processes.
For more information about on-site and emergency services, talk to the Aztec team.
Trusted Provider of Hydraulic Tooling Products and Services
Established in 1987, Aztec boasts more than 114 combined years of industry experience. Our staff is expertly skilled in all aspects of industrial bolting applications and processes.
Our professional consultants identify your specific needs and provide the best possible solutions. We provide hydraulic tooling products and services for the purpose of controlled bolt tightening in critical bolting applications.
Our bolting products and services ensure safer and faster controlled tightening of flanged joint connections. Acute consideration of joint and bolt integrity is a hallmark of our company.
Aztec's goal is to optimize your bolting processes. We are a full-service bolting technology organization committed to your 100% satisfaction, and we'll always be there when the work is critical.